Castings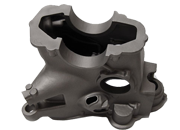 Casting is a method of manufacturing that has withstood the test of time. The casting process in society has been used throughout the ages with the earliest examples being discovered in egyption tombs nearly 5000 years old. Casting allows for the production of intricate components with accuracy, repeatability, versatility and integrity in a variety of metals and high-performance alloys.
Benefits of Casting
Complex Geomitries: Casting makes it easy to create complex shapes, internal passages and intricate surface features with close to net tolerances while eliminating the need for costly secondary operations.
Reproduction: Surface textures, splines, graphics, teeth and a number of other detailed surface features can add form and function to your components. Casting allows the reproduction of these comples features with amazing accuracy.
Singular Design: Engineers have the ability to use the flexibility of the casting process to integrate component designs. Milled and machined components and welded features can be integrated into a casting to eliminate the need for otherwise neccessary complex assemblies. Elimnating weldment can substantially maximize the strength and service life of your components.
Alloy Flexibility and Control: When you process your components from the liquid state, you're giving your casting distinct advantages. Modified alloy's are easily accommodated to engineer the corrosion and mechanical resistance of your parts. Advancements in cooling methods can engineer grain size and to create custom properties and drastically increase fatigue life.
Types of Casting
Investment Casting - Investment castings are many times preferred because they can be produced with intricate detail, boast excellent "as-cast" surface finishes, conform into internal or external features, walls, and internal passageways to get very close to net shape. This often allows our customers to take advantage of significant cost savings in material, labor and machining.
SGR specializes in lost wax investment casting in specialized alloys resistant to wear, heat, and corrosion. Concurrent engineering services help manage programs through modern state-of-the-art facilities to deliver the parts to your exacting specifications on-time. SGR also provides single-source responsibility for finish machining, polishing, electro-plating and other secondary operations.
Sand Casting - As a technology, sand casting has been around for thousands of years, and is the preferred method to manufacture shaped parts that weigh less than a 1 pound , to parts over 300 pounds. The process of sand casting is extremely versatile and cost effective, even for both large and low volume runs due to the savings in tooling cost. Just about any part design that can be made in another material, can be transferred to a pattern and created in a sand casting.
Internal passageway such as complicated internal structures, can be included in sand casting designs by adding cores during the course of the molding process. This is what make sand casting a popular selection for design engineers seeking the ultimate in precision part production. Most times sand castings will be finished machined before use. Our partners are experienced in sand casting an array of complicated and high precise parts for virtually any industry.
Permanent Mold Casting - Permanent mold casting utilizes metal as a mold. The metal used for permanent casting is typically cast iron or Meehanite (which is a dense cast iron) and the cores are normally made from sand or metal. Inside surfaces are treated with a layer of heat resistant material such as sodium silicate or clay.
Permanent mold castings lower the cost of producing a part significantly. At a production run of 1000 or more parts, these types of castings produce a lower piece cost part. More complex parts are generally favored by the use of permanent molds.
Aluminum Die Casting - Aluminum is used in a wide range of networking and infrastructure equipment in the tech and telecom industries. Aluminum castings work well for these applications because RF filter boxes and housings require heat dissipation. Aluminum castings also provide EMI shielding, rigidity and durability with minimal weight for shields and housings for handheld devices. Because of aluminum's excellent electrical performance and shielding properties, even in high-temperature environments, die casting aluminum is ideal for electronic connectors. Dynacast's proprietary Thin Wall Aluminum Technology has made aluminum die casting an option for more applications.adf
Alloys We're Experience in Casting:
Titanium Alloys

Ti-6Al-4V
CP (commercially pure titanium)
Near Beta alloys including FS-2S proprietary fatigue resistant alloy developed by Fusheng Precision Company
Beta alloys

Zirconium alloys, including 702, 704, 705

Stainless steel

17-4 stainless steel
300 series stainless steels, including 303, 304, 309, 310, 316, 347
400 series: Including 410, 416, 420, 431

HK heat resisting stainless steels

Carbon and Low Alloy Steels, including 1020, 1040, 1080, 4140, 4130, and 8620

Nickel Air Melt alloys including Hasteloy and Monel

Cobalt alloys, including Alloy 3, 6, and F75
If you don't see your alloy composition listed above, please contact us –we'll almost certainly be able to accommodate your requirements.
Partner with an Investment Casting Leader
For more information on SGR Precision Components and to learn more about our experience in casting parts, please contact us or send us an RFQ. We have the experience and expertise to source talented casting manufacturers that meet and exceed your expectations.
---