Injection Molding
Industry expertise, full-service manufacturing capabilities and a track record for solving complex challenges sets SGR apart in a highly competitive marketplace. Leaders of industry around the across the United States trust SGR as their premiere source of injection molded parts. With exceptional dedication to quality, our ability to keep projects ahead of rigorous deadlines, and the commitment to stay at the forefront of advancing technology, we have the experience to deliver results from concept to market.
We recognize the importance to the client's we work with in optimizing the functionality of their plastic components while reaching and maintaining lower production costs. SGR and our partners can provide manufacturing expertise, experience and quality by identification and selection of the most effective material, a key factor in realizing higher performance and maximum cost efficiency for your plastics injection parts.
Plastic Injection Molding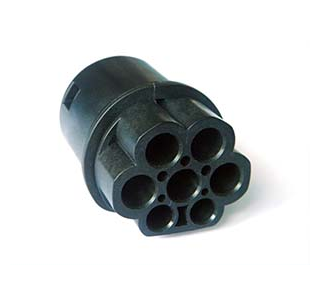 Plastic injection molding is a manufacturing process for producing parts by injecting material into a mold. Material for the part is fed into a heated barrel, mixed, and forced into a mould cavity where it cools and hardens to the configuration of the cavity.
Primary Benefits of Plastic Injection Molding
Fast Production Times - Injection molding can produce an incredible amount of parts per hour. Depending on how many impressions (part molds) are in your tool you can expect between 15-30 seconds for each cycle time.
Material and Color Flexibility - Once you have a tool made, without lots of difficulty, you can change the material and color of the part that you're producing.
Low Labor Costs- A self-gating, automatic tool runs on an injection molding machine without very much difficulty at all. Your parts can be readied with little or no labor on top of the production.
Design Flexibility - Injection molded parts have an almost limitless amount of flexibility, you just need to be able to design around certain restrictions outlined below.
Low Waste - Most plastics recycle – we grind up all of the waste that we can and reuse it, thus reducing our waste.
Plastic Injection Molding Material Capabilities
PEEK
Ultem
Implantable PLA, PMMA, PVOH, PVA
PPA, TPE

Nylon (filled and unfilled)
PPS
Radel
ABS

Commodity resins such as polypropylene (PP), polystyrene (PS), polyethylene (PE), polycarbonate (PC)
Plastic Injection Molding Specialty Services
Reel to Reel Molding - Reel to reel molding is a versatile technology that allows for greater precision in the manufacture of small components. It is especially useful for the electronics industry. The process involves two reels – a feed reel and take-up reel with a continuous carrier strip containing a line of parts is indexed and fed from the feed reel through the injection molding machine. Plastic is molded over the parts on the strip and the strip is fed onto the take-up reel. The benefit of reel to reel molding is automated production of tiny parts and the ability to manufacture larger volumes at a lower cost to our customers.

Mold Maintenance and Repair - We understand the importance of mold repair and maintenance improvements for plastic injection molders. Our partners employ expert engineers and manufacturing teams that use a variety of diagnostic tools including mold flow analysis, thermal imaging, pyrometers, high-speed cameras, and D.O.E. to identify problem areas in the mold. Our partners also have exceptional capabilities in manufacturing mold inserts to the highest degree of tolerance.

Injection Mold Design and Manufacturing - Regardless of whether you demand a simple two-plate design, a complex multi-cavity unscrewing mold or something in-between, SGR Precision Components can deliver it all. Our highly skilled partners are familiar with hot runner systems, reverse ejection and two-stage ejection and much more. The team's innovative problem solving and technical support expertise provides our customers with cost-efficient solutions. Our contract manufacturers have exceptional skill and vision in the plastics industry which drives our ability to build quality molds for our clients.
Precision Stamping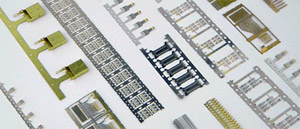 We provide customers in various industries with various high precision stamped parts. The materials we are competent with are copper, phosphor bronze, beryllium bronze, SPCC, and Stainless Steel.
Core Capabilities:
25T- 110T
Maxium Speed: 1200 SPM
Tolerances of ±0.02m with consistency.
High Speed Press: Kyori, Micron
Equipped with high precision feeding & collection systems
Material thickness: 0. 080mm~ 1.000mm
Reaction Injection Molding (RIM)
Reaction Injection Molding or "RIM" is the molding of two part rigid polyurethane foam, thermosets and elastomers.
RIM dimensional stability outperforms injection molding and thermoforming on large parts with varied wall thickness such as enclosures.
RIM tooling cost substantially less than injection molding, so large products with low volume can launch faster and less expensive.
RIM is the preferred process for high temperature resistance and insulation applications
RIM is the preferred process for a range of foams used in seating for motorcycles, ATV, snowmobiles, PWC, tractors and almost all other outdoor toys.
Metal Injection Molding (MIM)
Metal Injection Molding (MIM) is a multi-stage manufacturing process that combines the technologies of thermoplastic injection molding and powder metallurgy to produce many of the intricately-shaped, high performance orthodontic appliances that are designed and manufactured by the teams we work with.
Primary Benefits of MIM Manufacturing
Design Flexibility - By offering design flexibility similar to plastic injection molding, MIM enables the production of geometrically complex parts that cannot be produced using the conventional powder metal processes without secondary machining.
Intricate Details - MIM technology allows for intricate features such as dovetails, slots, undercuts, threads, and complex curved surfaces. MIM can also produce cylindrical parts with greater length-to-diameter ratios.
Reduced Assemblies - To minimize assembly costs, the MIM process can be used to combine two or more simpler shapes into a single, more complex component.
Reduced Waste/Machining - MIM's capability to provide net shape components eliminates many secondary machining operations.
Improved Physical Properties - MIM parts are typically 95% to 98% dense, approaching wrought material properties. MIM parts achieve greater strength, better corrosion resistance, and improved magnetic properties when compared to conventional powder metallurgy processes.
MIM is an excellent option for high-volume production of small, complex components requiring high strength, high performance and low cost. MIM is also gaining momentum as the cost of raw materials continue to skyrocket since it creates little or no waste material. Companies are seeking methods to limit material waste, especially with expensive materials such as titanium, kovar, and stainless steel.
Metal Injection Molding Material Capabilities
Stainless Steel

Titanium (CP & 6-4)

Inconel

Carbon Steel

Kovar

Copper Alloys

Custom Alloy Formulation & Blending Services
Partner with an Injection Molding Leader
For more information on SGR Precision Components and to learn more about our experience in plastic injection molding, RIM, and MIM, please contact us or send us an RFQ. We have the experience and expertise to source injection molding manufacturers that meet and exceed high tolerances and demanding manufacturing schedules.
---