Insert Molding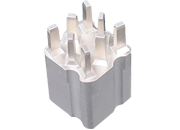 Insert molding is a highly efficient process by which metal stampings, bushings, electromechanical parts, filtration materials and other discrete parts are combined into a single component through the injection of thermoplastic around the carefully placed parts (inserts).
Some of the first insert molding applications were for placing threaded inserts into molded parts and encapsulating wire plug connections on electrical cords. Current custom insert molding applications are wide ranging with few limitations on material combinations, including:
Instruments and medical devices, such as needle hubs and tube valves
Knobs for controls, appliances and assemblies
Encapsulated electronic devices and electrical components
Military equipment
Threaded fasteners
Encapsulated bushings, tubes, studs, and posted
How does Insert Molding Improve Your Components?
Insert molding can be a highly efficient alternative to the assembly of discrete parts using soldering, connectors, fasteners, or adhesives. Its benefits over such methods include:
Reduced assembly and labor costs - Because insert molding joins numerous components with thermoplastic, assembly and labor costs are greatly minimized. For example, a single stamping can be overmolded, then perforated to create multiple circuit paths.
Reduced size and weight - By eliminating fasteners and connectors, and by combining the physical strength of resin and metal inserts, insert molding yields smaller and lighter components.
Increased reliability - With every part tightly secured in thermoplastic, an insert molded component prevents part loosening, misalignment, improper terminations, and other problems. The thermoplastic resin also provides improved resistance to shock and vibration.
Increased design flexibility - Designers appreciate the virtually unlimited configurations that insert molding allows. For example, in creating a 3D circuit board, overmolding permits circuitry to move freely through the part, from inside to outside, up walls, down in holes-and the plastic ties it all together.
Partner with an Insert Molding Leader
For more information on SGR Precision Components and to learn more about our experience in insert molding, please contact us or send us an RFQ. We have the experience and expertise to source insert molding manufacturers that meet and exceed your expectations.
---